Getting to MEDG
The MIT CSAIL Clinical Decision Making Group is located in and around Room 250 at the Gates end of the Stata Center, at the corner of Main and Vassar Streets near the northern edge of the MIT campus. If you walk in through the entrance nearest this intersection, you pass through a very tall lobby, avoid walking up the beckoning stairs to the third floor, and then see an information/activities desk in front of you. Walk past this, and turn to the right into an elevator lobby, but don't take the elevator, because it will not stop at the second floor. Instead, walk diagonally across this small lobby to a short flight of stairs, which leads you to a glass door into the second floor. Once past the door, turn right into a corridor, walk past a kitchenette and storage room on your right, and through another glass door into 250.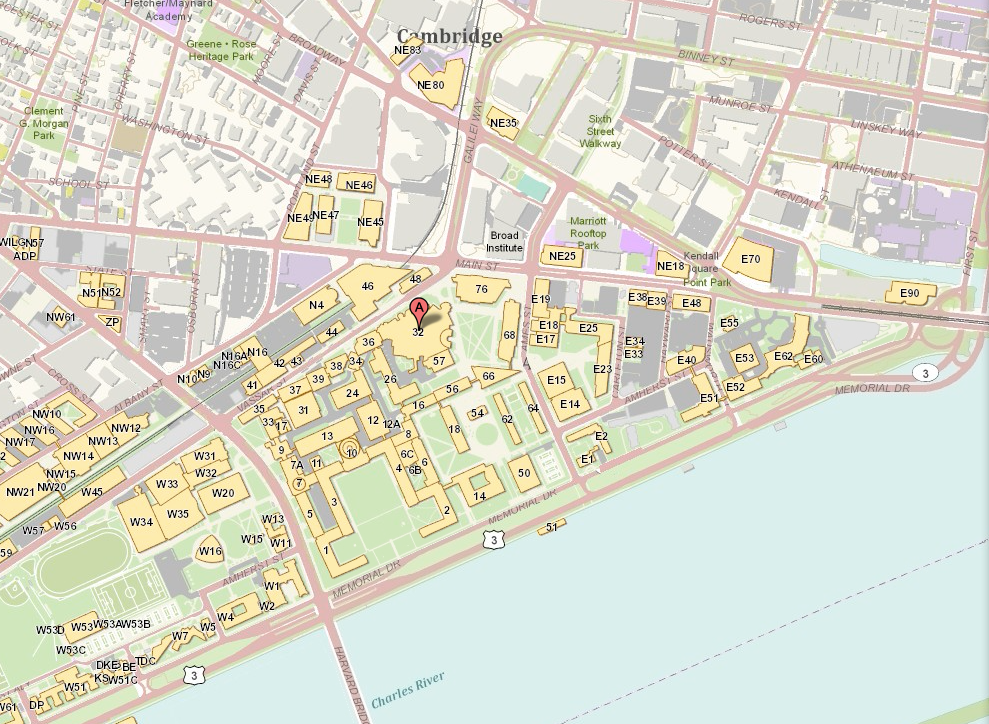 The official MIT Map, above, shows our relation to the vicinity of the MIT campus. MIT also provides a larger-scale map from which you can navigate around the campus.
Public Transportation
We are easily reachable by the T. The nearest subway stop is Kendall Square, which is on Main Street near building E38, at the corner of Main and Carleton. A number of buses also stop on Main near this station, and the No. 1 bus runs from Harvard Square down Massachusetts Ave, across the Charles River over the Harvard Bridge (which is next to MIT!), by Symphony Hall, and eventually into Roxbury; it stops in front of Building 7 on Mass. Ave.
Parking
Abandon all hope, ye who enter here! The parking garage under the Stata Center, as most parking at MIT, is available only to people with parking permits. There are a limited number of parking spaces at meters along Vassar and Main Streets, but these are usually full. Commercial lots are avilable behind Legal Sea Foods (which is in the building marked NE25 on this map; the parking lot is where the word "Marriott" appears), and in the Technology Square complex (above where NE46 and NE48 appear on the map). These are relatively expensive.