This site is for members and friends of endangered language communities, with an emphasis on Native American languages. Please send suggestions to the editor at erauch@ai.mit.edu.
---
"The importance of stabilizing endangered languages is analogous to preserving the biodiversity of plant and animal species which supply medicines, foods, and the sustainability of ecologies." - Turtle Island Native Network
---
Methods for revitalizing languages


Other organizations

Endangered-Languages-L Forum "provides a world-wide communications vehicle and a central electronic archive for anyone working on or interested in the study and documentation of endangered languages." Includes archives.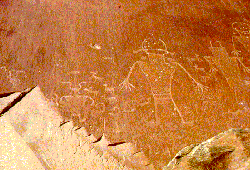 Petroglyph of the
Fremont Culture
.