To start with a simple model, consider the genome of an organism to be a simple bit string: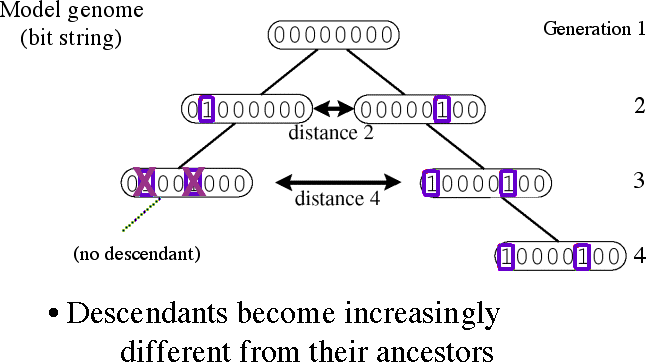 The thing to notice is that as mutations accumulate, descendants become increasingly different from their ancestors; and if an individual dies without offspring, all the mutations unique to it disappear from the population.

If we assume that mutations are random, each link in the tree is a chance for a mutation, so we only need to look at the genealogical tree itself, not the states, to determine the properties of diversity. From here on, we do not consider the states, only the links.



So to get the properties of uniqueness, we model the genealogical tree of populations. The model is as follows:

There are a fixed number of sites, each with an individual (spatial or well-mixed)
At each time step, the current population replaced by new generation
A new individual is offspring of a random individual
Inheritance can be from one or multiple parents - one is used for illustration
Thus, if we model the populaton on a lattice, the ancestry of each individual, traced back in time, is a random walk. But when the lineages of two individuals collide, they coalesce, so it is a coalescing random walk.

This is the model in 1D. Time goes down the page, with the line of descent of individuals in the present shown in bold; those that have no descendants are dashed: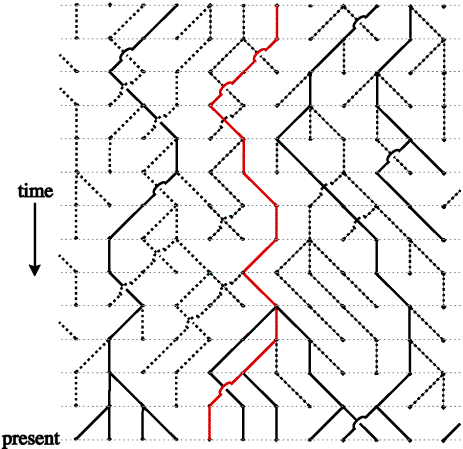 Here is a larger 2D simulation (population size 300).The latest generations are magnified: