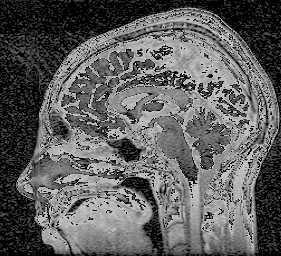 LOST:
One mind, size small, slightly used. Answers to name of "Nick".

Note the prominent bump on my head where my mother dropped me when I was young.

These images are from a sequence of MRI images of my head made by T. L. Davis (tldavis@mit.edu) and friends in the course of their research. I volunteered to lie in one of MGH's functional MRI machines ("Loading torpedo bay 3!" ping! ping!) and try to sit still. I can't think of many other things that could have immobilized me for a couple of hours. I have the full 3-D dataset online (almost 60 slices), and hope to have a whizzy viewer for it soon.