Stingray City
---
The Cayman Islands are one of the world's premier diving spots. I came very close to getting certified once upon a time, but didn't quite finish -- so diving was sort of out. Snorkeling, though, was quite fine (Hint: use a weight belt) and the beach near the Opies' residence in Bodden Town was fantastic.

I futzed around a bit with the overgrown plastic bag I'd bought in Key West for the videocamera and worked out all the bugs with the "Nick Cousteau" gear while snorkeling the local reef. So I was ready when we sailed the Five Knots out to more or less the middle of the big lagoon in the center of Grand Cayman, to a place called "Stingray City".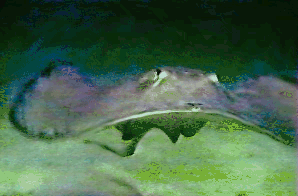 It seems that the stingrays like this spot or something and (people have been feeding them long enough that) they've become quite tame. They just sort of swim around you looking for handouts. We didn't have any food that was to their liking (cheese whiz, while a favorite of most fish, didn't seem to turn on the rays), but they didn't mind too much.
You could touch them.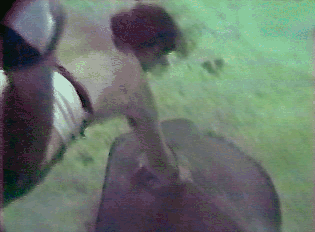 They feel smooth and leathery underneath, crusty on the top, vaguely reptilian. Not like regular fish, but more like sharks. I don't really know what type of rays these were (certainly not the huge manta rays that get to be ten or more feet across), but they seemed harmless, even a bit stupid. They never did figure out that we weren't going to feed them.
After a bit, I got more daring and moved in closer.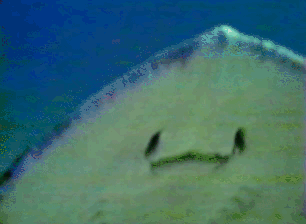 It really was amazing how close they'd let you come.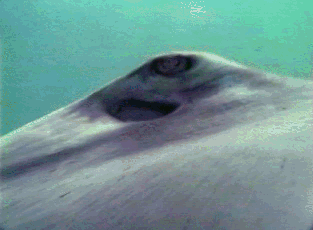 ---
Phil Greenspun has been to stingray city too. He's a much better writer than I am.