Genesis Home Page
15 June 2013
Breaking news
Scrubbing
Robert McIntyre, Matthew Fay, and Patrick Winston are working on a major scrubbing of the code in the Genesis System. We are far enough along with refactoring and rehosting to invite others with Genesis access, and newcomers, to get on the new bus, per the following notes and instructions.
One page of supremely important release notes
Instructions for getting the Genesis sources with Git
Community Standards
The Genesis Group is working toward a set of community standards regarding source code supporting MEng and PhD theses.
The Visions
The Genesis Group is dedicated to the proposition that the time is ripe to answer fundamental questions about the computations that account for human intelligence. Members of the group believe that if we're to understand the nature of human intelligence, we have to work toward verifying five hypotheses:
The inner language hypothesis. We have an inner, symbolic language, that enables event description.
The strong story hypothesis. We can assemble event descriptions into stories.
The directed perception hypothesis. We can direct the resources of our perceptual faculties to answer questions using real and imagined situations.
The social animal hypothesis. We have a powerful reason to express the thought in our inner language in an extenal communication language.
The exotic engineering hypothesis. Our brains are unlike standard left-to-right engineered systems.
These hypotheses are explained in more detail in a trilogy.
Running Genesis
Some of the story-understanding functionality of Genesis is now available via the Java WebStart mechanism, which comes with the Java Runtime Environment, the so-called JRE.
So, if you don't have the Java Runtime Enviornment installed, you should install it first. Then, you can run Genesis.
Web Start will ask if you trust us. Indicate that you do. Then Web Start will download Genesis onto your computer. You will see something like this:
Click on the Demonstrations menu item to run experiments. When you run the first one, you will see this: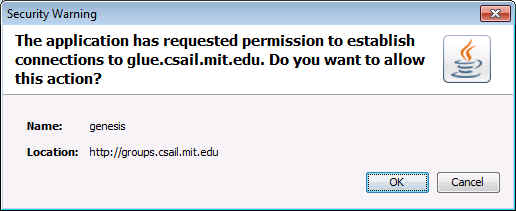 Click ok.
Note that this is an early release, tested only on Windows 7. Documentation will appear eventually.
Demonstrations
See our story demonstration videos for videos of our story understanding work.
See our vision demonstration videos for videos of our vision understanding work.
You can also have a look at a movie prepared by Sajit Rao and Deniz Yuret showing their vision system commenting on the activities of two men with a ball.
Our systems are all connected using Genesis Wires. You can look at Genesis Wires live.
Recent work
See Papers and theses.
History
The roots of the Genesis Group lie in the thinking that led to the thoughts of a group that styled itself as The Human Intelligence Enterprise.